Supporting patients to make a timely departure from our care when the moment arrives is at the heart of this fundraising activity.
We are pleased to take delivery of this new, custom-built, bespoke patient minibus now on site at Macclesfield Hospital following a successful fundraising campaign to replace the existing rented patient transport vehicle.
The high-specification, wheelchair-accessible minibus has been built to cater to a wide range of patient needs and will be used to support the timely discharge of patients when they are well enough to return home or to their primary place of care.
It will also be used to provide support to vulnerable patients who do not have alternative methods of transport or who rely on the support of others to travel to and from hospital appointments.
Fundraising for the minibus commenced back in 2019 but activity was halted due to the covid pandemic. Fortunately, thanks to ongoing charitable donations from the local community and a contribution from the trust's Captain Tom fund, patients will now be able to reap the benefits of this service.
Lynn McGill, Trust Chairman said, "We are extremely grateful to all those who helped raise funds for the new minibus and to the Captain Tom fund which made the purchase possible.
"The benefits to our patients will be fantastic as we understand there can often be delays in patient discharge due to available transportation options. The minibus will help ensure that patients who no longer require acute care can return to their homes in a safe and timely manner where they can best recover.
"I would also like thank our dedicated operational teams who work around the clock to provide patient centred care and ensure drivers are on hand ready to support rapid discharge."
The ECHO minibus will be operational seven days a week from 08.00am through till 06.00am with a two-hour gap first thing in the morning.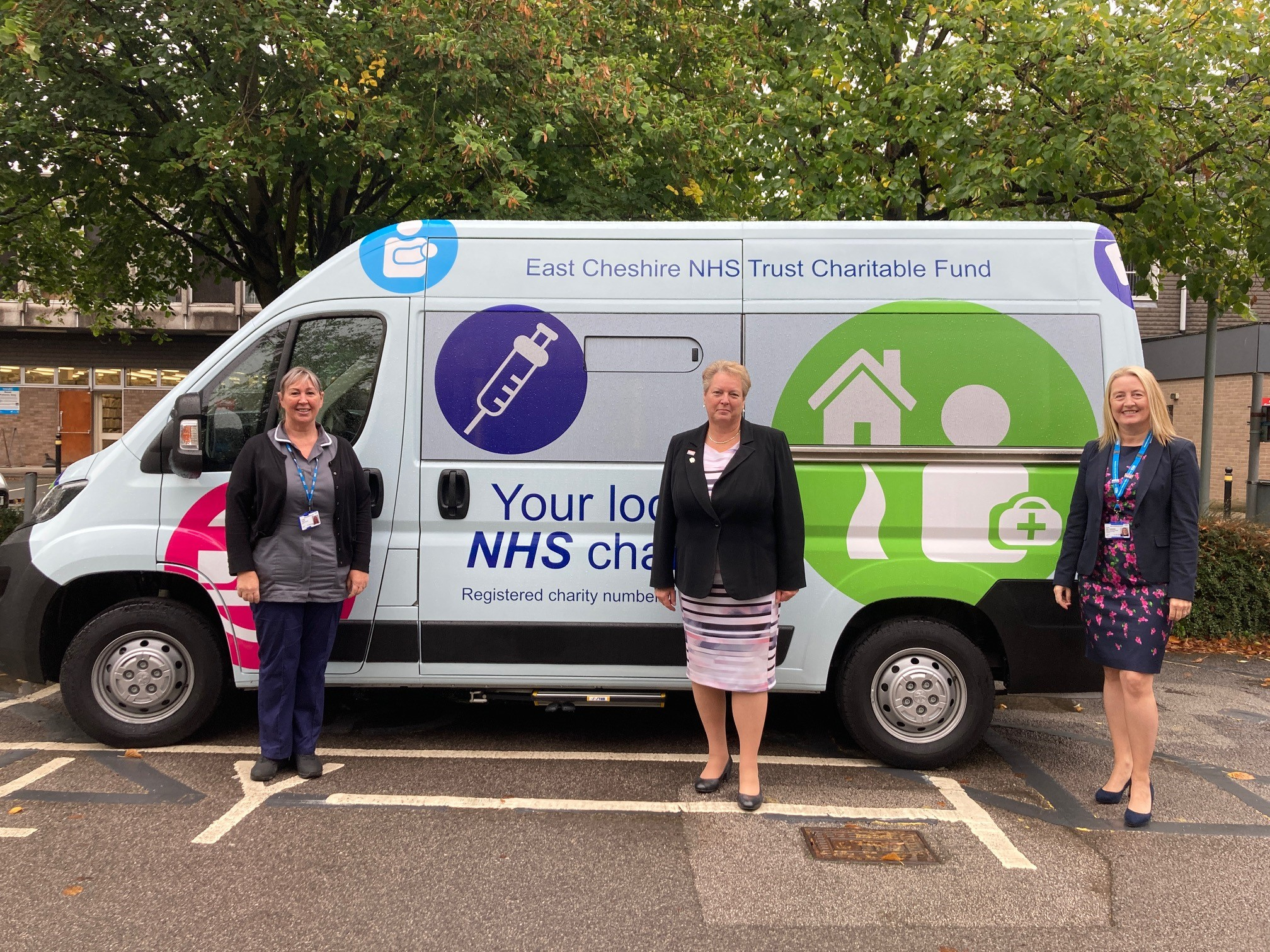 Pictured from left to right: Discharge Lounge Support Worker, Claire Court, Trust Chairman, Lynn McGill and Director of Nursing and Quality, Kate Daly-Brown
ENDS

Notes for editors:
For further information about East Cheshire NHS Trust Charitable Funds please visit:

https://charity.eastcheshire.nhs.uk/

or contact the trust press office on 01625 663935. For urgent, out-of-hours enquiries, please call 01625 421000.

To donate, please visit our JustGiving page:

https://www.justgiving.com/echeshirenhscharitablefund

Registered charity number 1059228

East Cheshire NHS Trust is the main provider of acute and community health services for the people of East Cheshire. The trust is based at Macclesfield District General Hospital.

Follow East Cheshire NHS Trust on Twitter for all the latest news -

@EastCheshireNHS