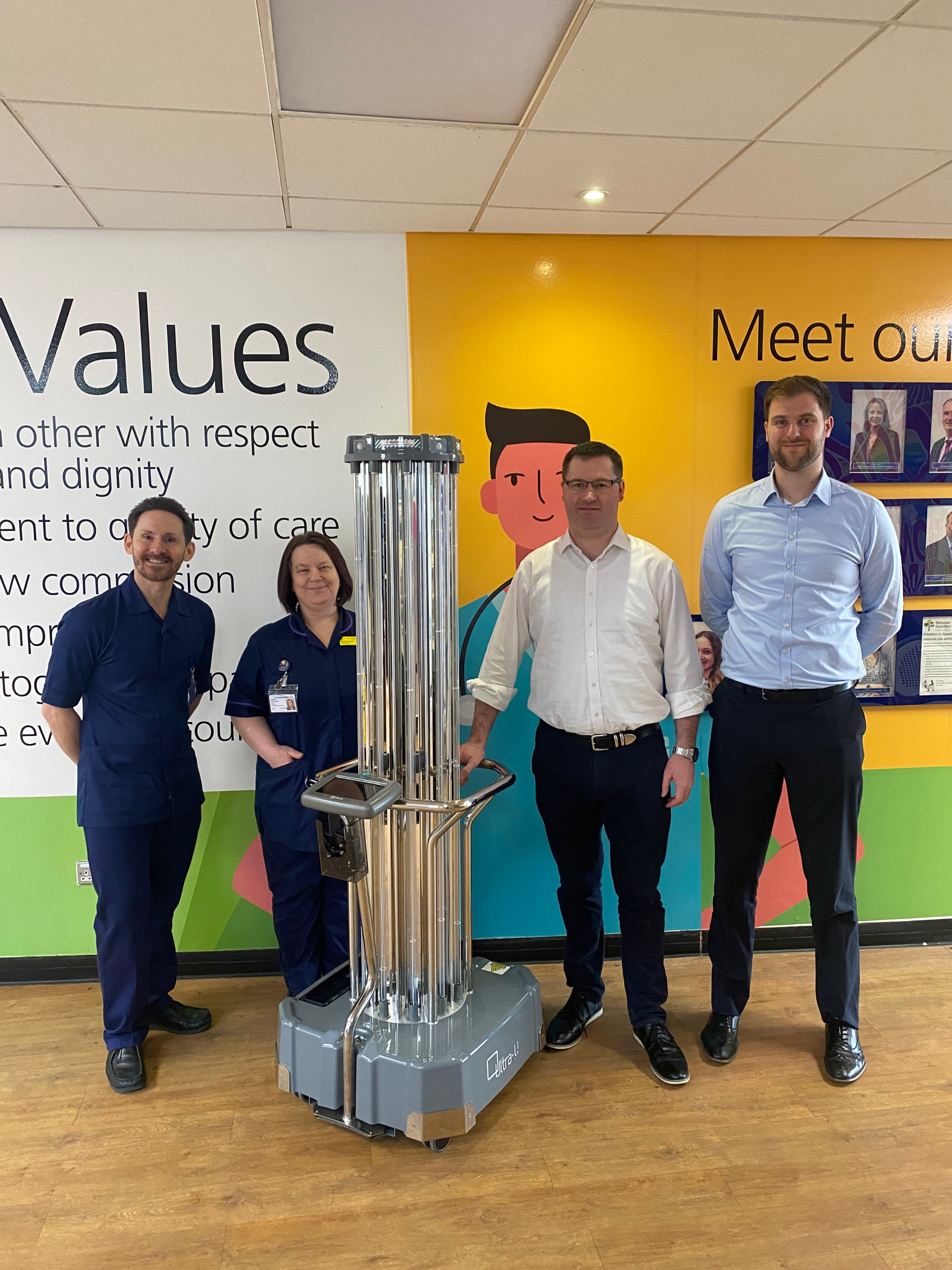 East Cheshire NHS Trust are delighted to have secured innovative ultraviolet-C (UV-C) decontamination equipment as part of a new partnership with infection control experts, Inivos.
Delivered to the trust's Macclesfield Hospital site, the state-of-the-art cleaning equipment uses high intensity UV-C light to automatically decontaminate rooms and surfaces quickly and effectively as a supplement to manual cleaning especially where there is a potential risk of transmission of a harmful organism.
Ideal for high-risk areas such as intensive care units (ICUs), neonatal intensive care units (NICUs), isolation rooms, side rooms, Accident & Emergency and operating theatres, the equipment can also be used to decontaminate hospital equipment.
It is also well-suited for high-throughput areas where patients are being regularly admitted and discharged, allowing staff to maintain turnaround speeds and prevent backlogs without compromising on patient safety.
Global med-tech company Inivos, provide specialist hygiene products and hi-tech robotic decontamination solutions to more than 50% of NHS Hospital Trusts in the UK and to health centres around the world.
Regional Manager for Inivos, Ben Kilbey said: "Inivos are delighted to work with East Cheshire NHS Trust to support the delivery of rapid, validated decontamination of environments with our Ultra-V UV-C technology, enabling them to provide the best possible experience for patients."
Deputy Director of Nursing and Quality for the trust, Paul Devlin added: "We are so grateful to Inivos for supplying this incredible piece of kit to East Cheshire NHS Trust.
"Working with this innovative equipment will support our domestic services teams to deep clean patient areas quicker, in turn allowing us to support our clinical teams to improve patient flow within the hospital and continue to provide patients with the highest quality of care."
ENDS
Picture caption: Pictured left to right with the equipment: Paul Devlin, Deputy Director of Nursing and Quality, Marie Beckwith, Quality Matron, Ben Kilbey, Regional Manager at Inivos, Matt Bates, Key Account Manager ISS
Notes for editors
For further information about East Cheshire NHS Trust, contact the trust press office on 01625 663935. For urgent, out-of-hours enquiries, please call 07748 384745.

East Cheshire NHS Trust is the main provider of acute and community health services for the people of East Cheshire. The trust is based at Macclesfield District General Hospital.

Follow East Cheshire NHS Trust on Twitter for all the latest news

@EastCheshireNHS

Donations to the charity supports the trust and enables East Cheshire NHS Trust to purchase lifesaving equipment and items not funded by the NHS. You can make a donation to our charity by text. Text hosp45 followed by either £5 or £10 to 70070. Your text might look like this 'hosp45 £10'. It is free to text us, and your text won't come out of any inclusive text package – you only pay for the cost of your donation. Thank you for supporting our charity.