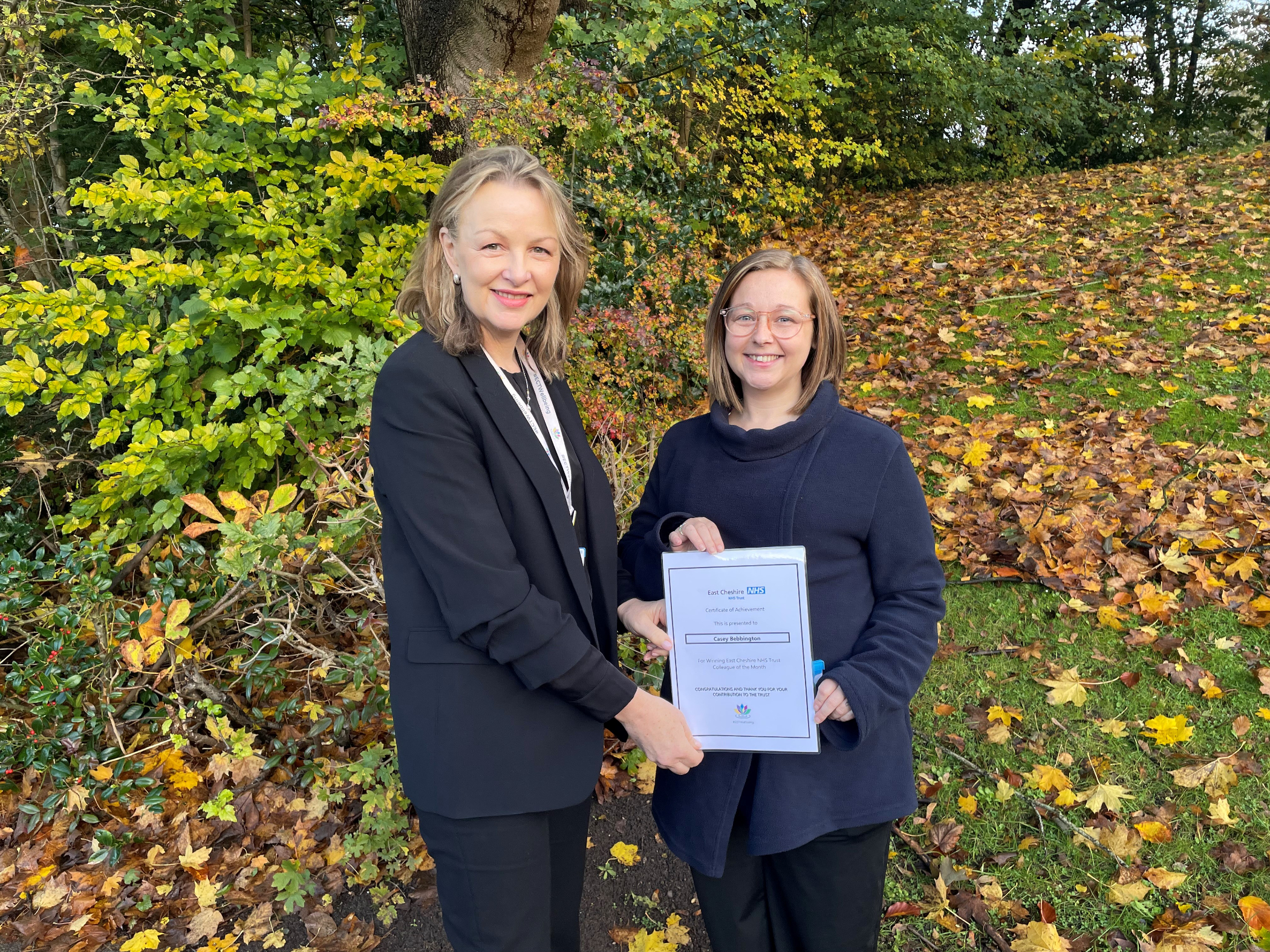 A member of staff at East Cheshire NHS Trust has been recognised with an award after their quick thinking contributed to saving the life of a patient and their unborn baby.
Casey Bebbington, who works at Macclesfield District General Hospital's Emergency Department as a receptionist, was awarded Colleague of the Month for her actions after the high-risk pregnant patient was presented to her having experienced acute pain at home.
After immediately recognising the patient and the unborn baby were at risk, Casey put her in a wheelchair and took her directly to the Maternity Department for assessment, where the baby was able to be delivered safely.
After being presented with the ward, Casey said: "I'm obviously delighted to receive this award.
"It was an extremely busy day on the Emergency Department, but it was clear she needed help as soon as possible.
"There was a wheelchair just in front of reception, so it was just instinct to get her to maternity as soon as possible.
"They said afterwards that if she was ten to fifteen minutes later then the outcome would have been different so I'm glad I could contribute in some way."
Casey was subsequently sent a thank you note from the patient who said: "I just wanted to say thank you. Were it not for your quick thinking and recognition of the situation we were in, neither I nor my baby would be alive.
"Thank you from the bottom of my heart."
END
Picture caption: Casey is presented with her award by Director of People and Culture, Rachael Charlton.
Notes for editors
For further information about East Cheshire NHS Trust, contact the Trust press office on 01625 663935. For urgent, out-of-hours enquiries, please call 07748 384745.

East Cheshire NHS Trust is the main provider of acute and community health services for the people of East Cheshire. The trust is based at Macclesfield District General Hospital.

Follow East Cheshire NHS Trust on Twitter for all the latest news

@EastCheshireNHS

Donations to the charity supports the trust and enables East Cheshire NHS Trust to purchase lifesaving equipment and items not funded by the NHS. You can make a donation to our charity by text. Text hosp45 followed by either £5 or £10 to 70070. Your text might look like this 'hosp45 £10'. It is free to text us, and your text won't come out of any inclusive text package – you only pay for the cost of your donation. Thank you for supporting our charity.