East Cheshire NHS Trust's Radiology Department has been given a splash of colour thanks to the work of a local watercolour artist.
Cheshire based painter, Allie Pottinger donated two spectacular murals to improve patient experience, after being asked by her sister, Janet Unsworth, who works in the department as at Macclesfield District General Hospital.
The handcrafted designs, stretch across the walls of two of the X-ray rooms and portray the view from the top of Tegg's Nose across to Shutlingsloe featuring some familiar landmarks, and Porth Diana at Trearddur Bay on the North Wales Anglesey seaside.
After Janet completed a dementia friendly walk around the department with the trust's Admiral Nurse, Stephanie Ragdale, the idea came about to make the improvements.
Janet, an Advanced Practitioner Radiographer at the trust, said: "It became obvious that the walls in the X-ray rooms could do with a splash of colour or a picture to help distract patients and put them at ease during their examination.
"I thought to ask my sister Allie, a professional watercolour artist, if she would be prepared to help and she jumped at the chance to create and then generously gift two beautiful murals.
"We chose to incorporate Shutlingsloe as this was a favourite walk of our dad, Mr Robert Neill who was appointed as Consultant General Surgeon at Macclesfield Infirmary as it was in 1973 and worked until his retirement from Macclesfield Hospital in 1995.
"He sadly developed dementia in later life and died last year but he loved working alongside the staff here and we wanted to commemorate his work and life somehow.
"We hope that not only patients but also staff will feel an improved sense of wellbeing taking in these fantastic murals instead of staring at the beige walls."
Allie, who has been painting ever since she was a child, prides her paintings on her love for nature and added that she was more than happy to help.
She said: "I just want to say thank you to all of the NHS staff and all the dedication and hard work that they do. When you walk in and see the murals, it's quite breath taking.
"It was a lot of climbing the hills, doing the sketches, and working out how it's all going to go together. I hope it brings some lift in the day and joy to patients and staff."
ENDS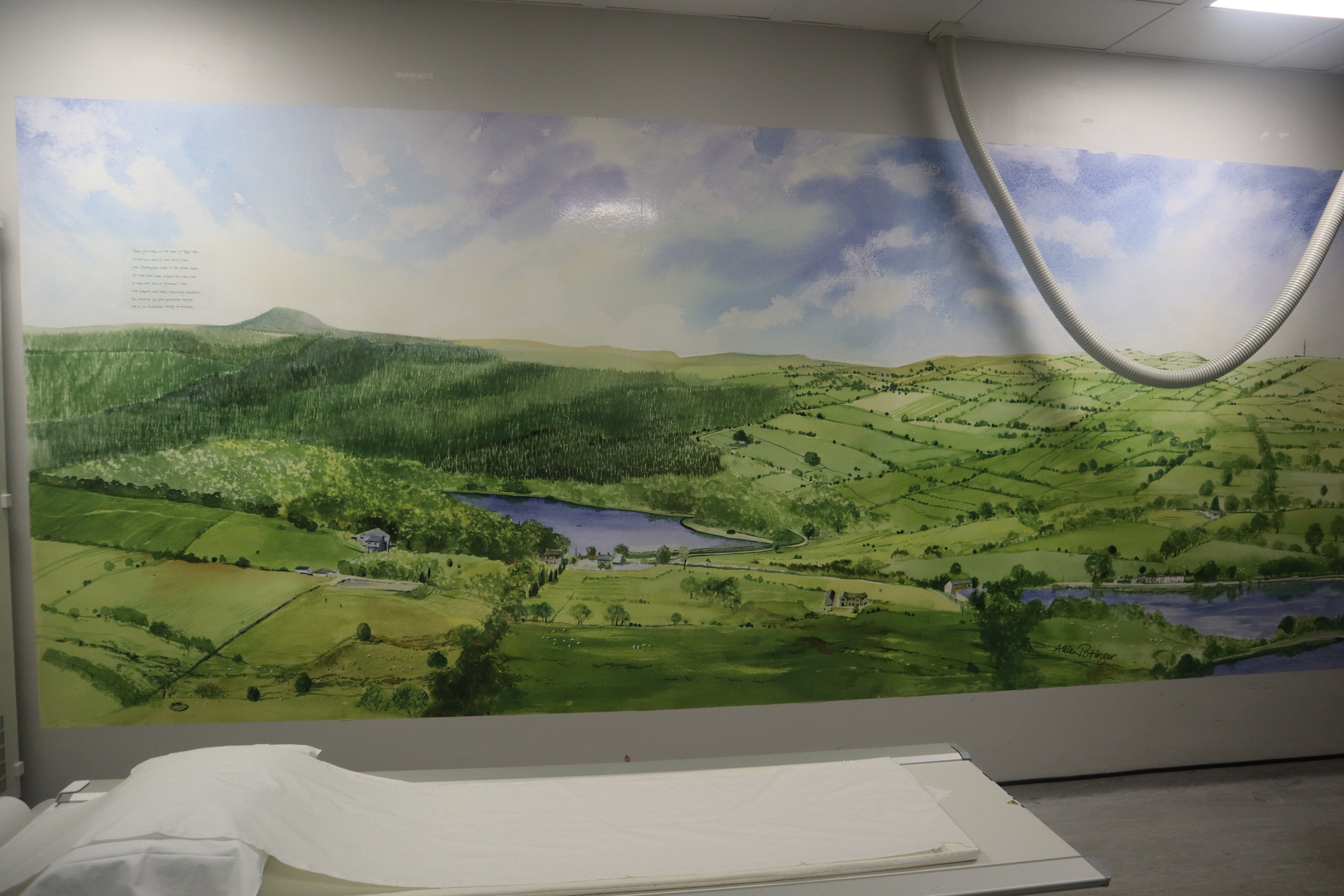 Thumbnail picture captions:
Pictured in front of the mural of Shutlingsloe from left to right, Janet Unsworth (Advanced Practitioner), Allie Pottinger (Artist), Sarah Whelehan (Radiology Operational Manager), Stephanie Ragdale (Admiral Nurse)
Notes for editors
For further information about East Cheshire NHS Trust, contact the trust press office on 01625 663935.

East Cheshire NHS Trust is the main provider of acute and community health services for the people of East Cheshire. The trust is based at Macclesfield District General Hospital.

Follow East Cheshire NHS Trust on Twitter for all the latest news

@EastCheshireNHS

Donations to our charity enable East Cheshire NHS Trust to purchase lifesaving equipment and items not funded by the NHS.

You can make a donation to our charity through their JustGiving page

here

.