The trust has various facilities in place to assist its employees and visitors. Please see below for more information:
Free WI-FI
Free and unlimited Wi-Fi is available for staff, patients and visitors and can be accessed anywhere throughout the hospital grounds. The service, which shows up as 'NHS Wi-Fi' in and around the hospital building, is provided using O2's secure public Wi-Fi service and is completely free to use with no time restrictions. People only need to register once in order to use the service and will then automatically access any of the O2 Wi-Fi hot spots provided nationwide. Visitors to the hospital who have already registered their devices to other O2 hot spots will automatically connect.
Pharmacy
The Pharmacy department is located on site and can be used by staff and patients.
Chapel and Multi Faith Room
St Lukes Chapel can be located on the ground floor in the general hospital, a short distance from the Admissions Desk. The Chapel is open through the day and may be used for prayer, worship, mediation or a quiet time. There is also a quiet room which also can be used throughout the day for quiet reflection. The Chapel is closed at 9pm, however access can be arranged if required by speak to staff.
The trust is proud to be able to announce that the temporary prayer facility which was opened in May 2017 for Ramadan is now available permanently as a multi-faith facility in addition to St Lukes Chapel and Quiet Room. Work will continue to develop the multi-faith room to ensure that it is a welcoming space for people across a diverse range of faiths.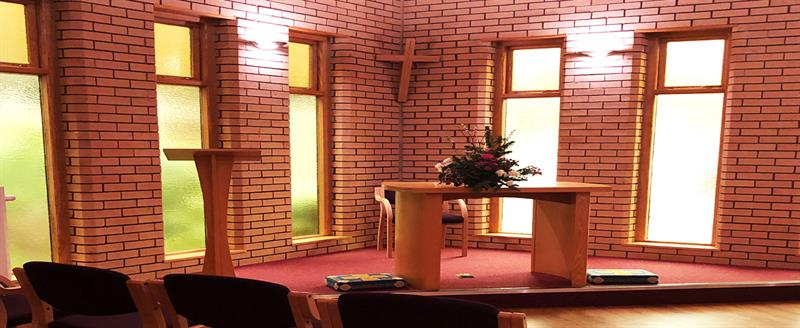 Restaurants and Cafes
The Treetops Restaurant offers a variety of hot and cold food from 7 days a week, 7:30 – 2pm. Café Qualita is next to the Treetops Restaurant and is open from 7:30am each morning. It serves Costa coffee, sandwiches, crisps and cakes, and provides free Wi-Fi for customers. Café Qualita's opening times are 7:30am to 4pm, Monday to Friday.
Services available after these times include:
Hot and cold beverages and a separate snack vending machine
The WRVS shop and café – please see below for opening times
The WRVS cafe is available for beverages and snacks and is located on the ground floor by the main entrance of Macclesfield Hospital. It is open from 9:00am - 4:00pm daily. The RVS shop is located on the ground floor by the rear entrance and main car park of Macclesfield Hospital. Opening hours are from 8:00am to 8:00pm daily.
24 hour vending machines
Vending machines are situated across the trust as a service provision during the day and out of hours. There is a variety of machines providing hot and cold drinks, snacks and hot meals.
24 hour Cash Point
There is a free cash point located next to the RVS shop.
On-Site Bus Stop
A bus stop is located on site opposite the A&E department. The bus service is operated by D&G Bus on behalf of Cheshire East Council. For more information please call 01270252970 or visit www.dgbus.co.uk
Bike Sheds
There are 4 lockable bike sheds located around the Macclesfield Hospital site. Keys can be requested from the Estates Department on 01625 661616.
Kids Allowed Nursery
There is a Kids Allowed Day care located next to Macclesfield Hospital.
Accommodation
There is on site accommodation from £35 per day, between 3:00pm - 9:00am. For any accommodation related queries, please contact Karen Webb, Accommodation Manager on karen.webb4@nhs.net / 01625 663776.
On-Site Security Team
The Security Team provide a 24 hour security service for all staff, patients and visitors. The team will assist individuals with any on-site issues they may encounter in addition to escorting staff members to off site car parks in the evening. Throughout the hospital (excluding the car park) there are CCTV cameras, internal and external, recording 24 hours a day.